Has your student misplaced a coat on our campus? Parents and guardians are welcome to stop by on Friday, November 11th and browse our lost and found! All items will be on display in the gymnasium for you to collect. The temperature is forecasted to drop this weekend, and we don't want any of our students to be cold!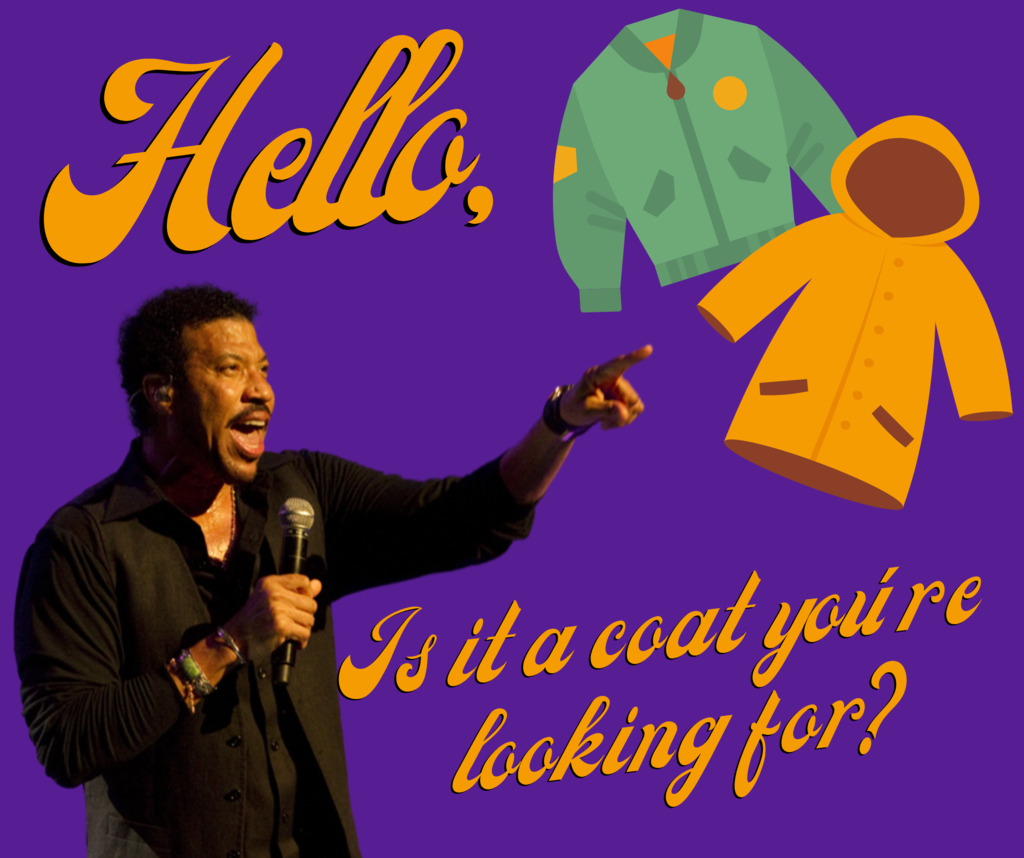 Tomorrow is the last day to shop at the HLA Book Fair! Parents can visit the fair after school, or during the Be Our Guest lunch on Friday, November 4th! Thank you for supporting your child's reading success and the HLA Library.

We are still rocking and rolling at the HLA Book Fair! We will have 2 more shopping days available for your students. Parents can visit the fair after school, or during the Be Our Guest lunch on Friday, November 4th! Thank you for supporting your child's reading success and the HLA Library!

Fall Festival Tomorrow from 4:00 to 5:30. Tickets are $2 Hotdogs $2 Chips $1 Can drinks $1 See you all there!

Fall Festival Tomorrow from 4:00 to 5:30. Tickets are $2 Hotdogs $2 Chips $1 Can drinks $1 See you all there!

Hello parents, Due to all the activities this week, tutoring is cancelled. We will resume next Tuesday. Thank you.

Red Ribbon Week is here! We will be celebrating the Drug Free lifestyle next week, October 24-28, with lots of fun dress up days and activities!

Harmony Leadership Academy will be hosting its 2nd Annual Fall Festival on Thursday, October 27th from 4 to 5:30 p.m. in the gymnasium. Make plans to join us that night for games, candy, and the book fair! We will be selling concessions, with hot dogs grilled by Mr. Mitchell. Tickets will be the same as last year - $2 per trick-or-treater. We are accepting candy donations, and specific bag sizes will get students free tickets! You can drop off a 30+ oz bag of candy for 1 free ticket, or a 50+ oz bag of candy for 2 free tickets. We hope you can join us for this spook-tacular event!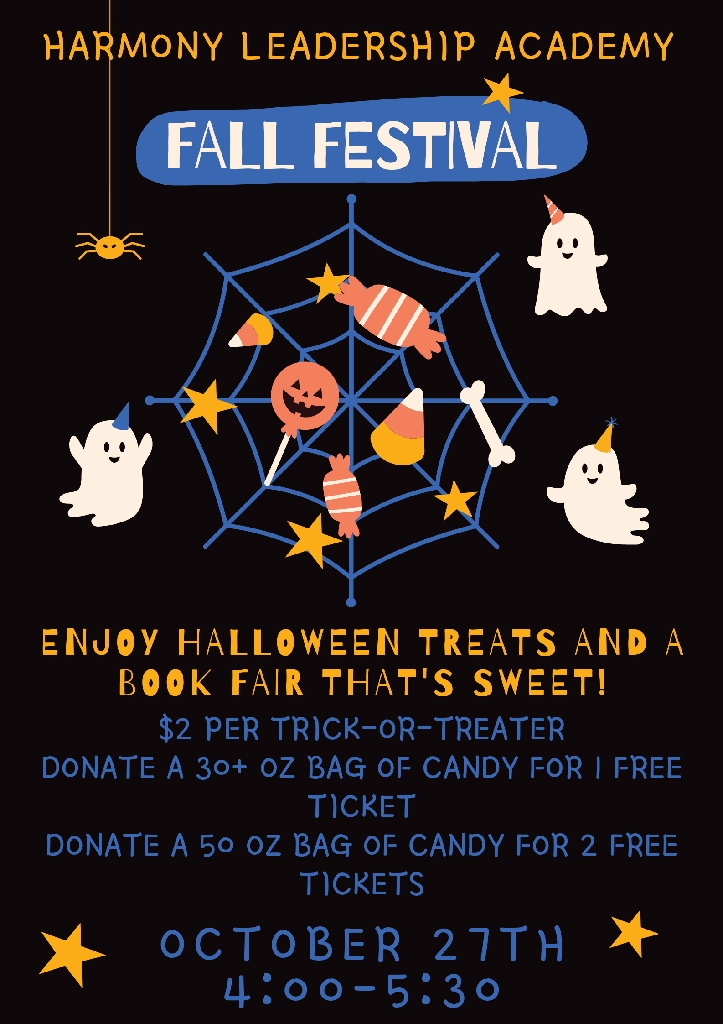 TUTORING Parents, I apologize but due to a staffing issue, tonight tutoring is canceled. Students will go home as normal. Thank you, Mr. Mitchell

Annual Title 1 Parent Meeting - All parents/guardians are encouraged to attend the meeting. The purpose of this meeting is to provide information about our Title 1 Program and your right to be engaged in your child's education. September 29th - 8:45 a.m. - Administration Building

Parent/Teacher Conferences - September 15, 2022 from 4:00 - 7:00 p.m. at all campuses.

Parents, Reminder that tomorrow, students that arrive at 8:00 a.m. or after must be signed in at the front office by an adult. Thank you.

For the safety of our students, please remain in the car during afternoon pickup. Remaining in the vehicle will make the line go much faster!

We are so excited to see all of you again!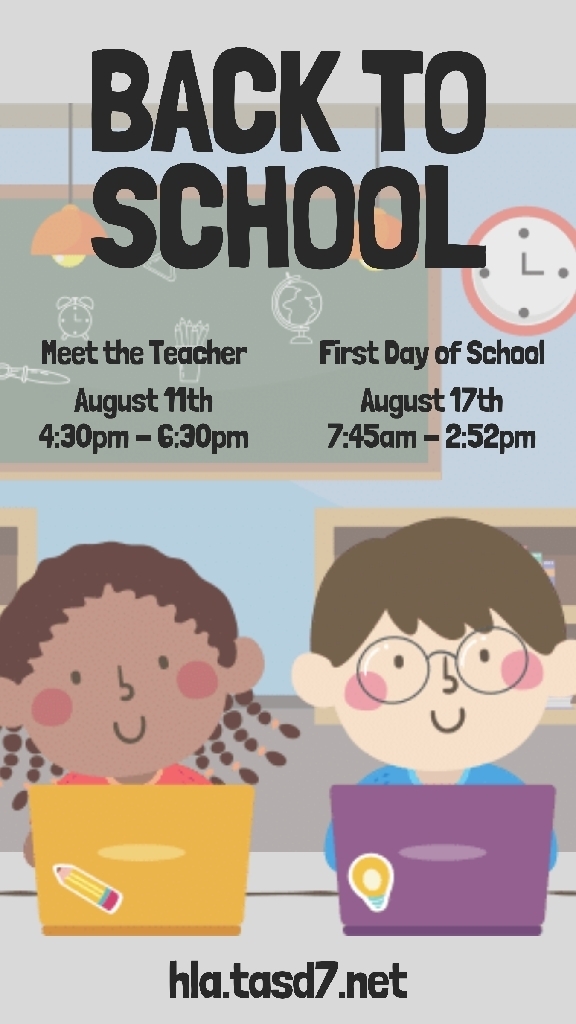 Harmony Leadership Academy Librarian is named regional finalist for the 2023 Arkansas Teacher of the Year Jessica Bilbo is the Library Media Specialist at Harmony Leadership Academy in Texarkana, Arkansas. She has 14 years of experience, all with TASD.   Mrs. Bilbo received her Bachelor's Degree in Education and Master's of Education in Library Media and Information from Southern Arkansas University. While attending, she was a member of the President's Ambassadors and Alpha Sigma Alpha.   As the Library Media Specialist of Harmony Leadership Academy, Mrs. Bilbo strives to provide a library that is engaging and transformative. "I believe that all students should have access to books that will create lifelong readers and critical thinkers," Mrs. Bilbo commented. She coordinates with teachers to provide research classes that offer an enrichment of classroom curriculum. Mrs. Bilbo has presented professional development sessions on research and technology at both the state and local level.   Mrs. Bilbo is a National Board Certified Librarian and assisted in writing the 2013 Arkansas Library Media Curriculum Frameworks. Over the past 14 years, she has written successful grants totaling over $38,000 for the library. Mrs. Bilbo is also the campus webmaster and Facebook manager, as well as a member of the Lighthouse Team and Arkansas Leadership Academy. In 2022, she recieved Master Teacher designation from the Arkansas Department of Education. Mrs. Bilbo is the current President of the Alpha Pi Chapter of Delta Kappa Gamma, and a member of the Arkansas Association of Instructional Media. She is a faithful parishioner of Hardy United Methodist Church, where she leads the HIS Kids Choir. In her spare time, she enjoys traveling with her husband and daughter, who is a Harmony Leadership Academy student.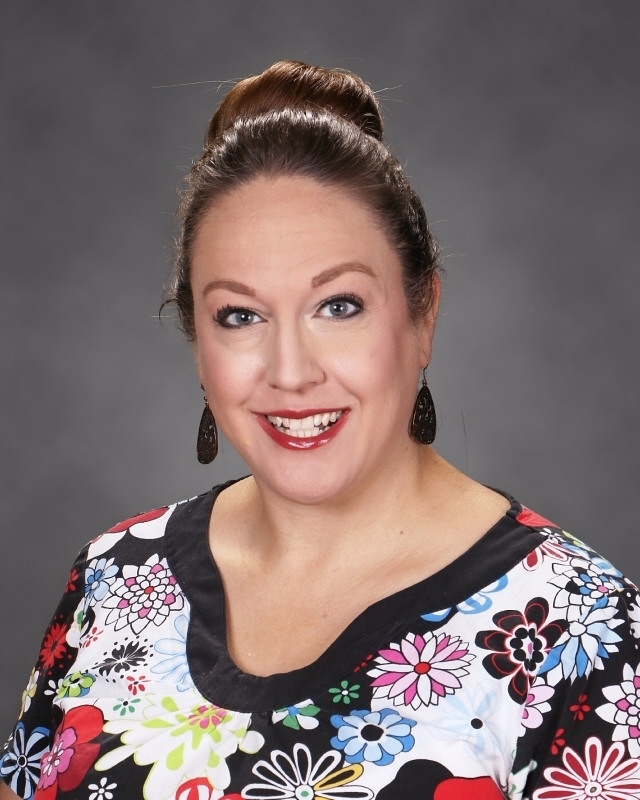 Kindergarten parents don't forget, tomorrow is Kindergarten Graduation pictures. Patterson's will be here to take pictures of your child in cap and gown.

Did you forget to purchase a yearbook, and now your child is pouting? You can now order online and have it shipped directly to you! If you choose economy shipping, the total comes to roughly $25. Please visit
https://store.shopyearbook.com/hla
to get your copy!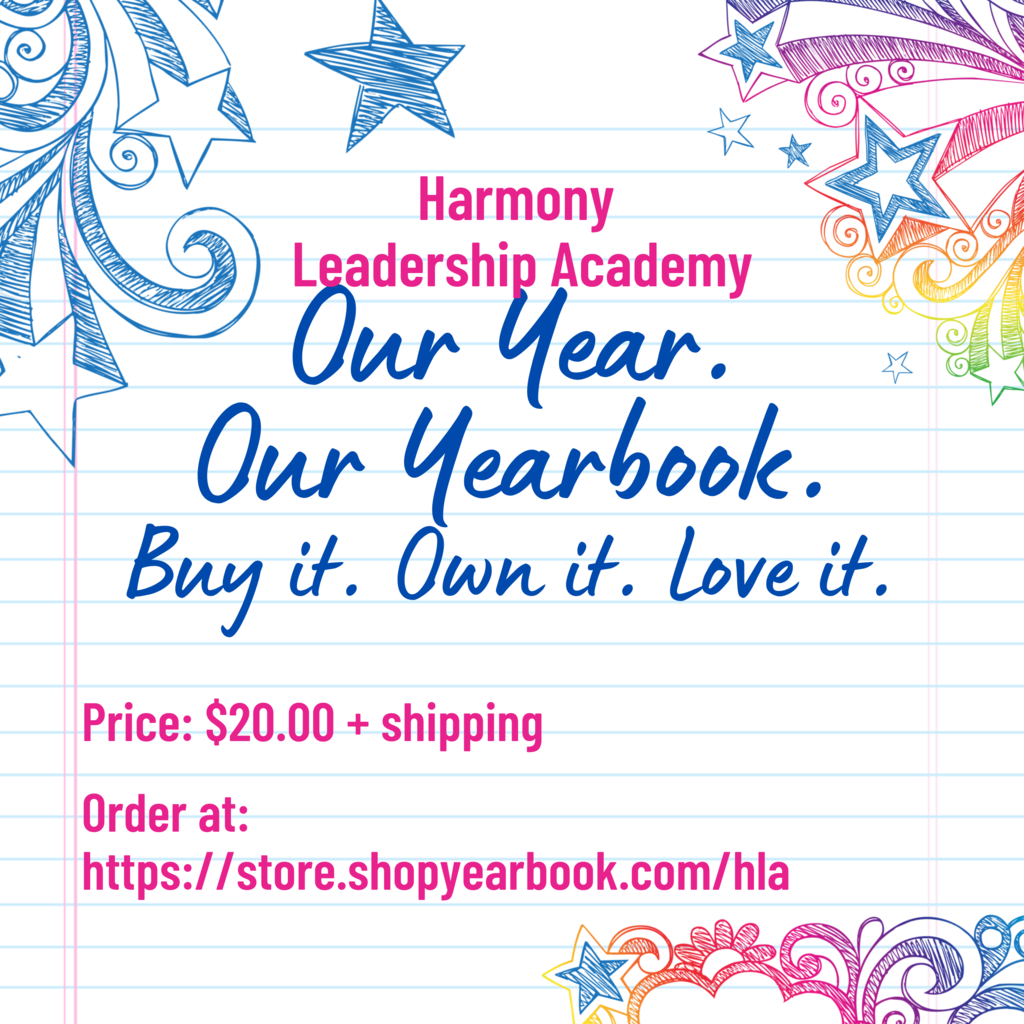 Parents, Please remember that State testing for 3rd - 5th is all this week. Testing starts right at 9:00 am so please have students on time. Any student arriving after 9:00 will not be admitted to class. Also, once a student begins a test it cannot be stopped. Please make sure students stay at school for the entirety of the test. Get plenty of rest and see you all tomorrow. Go Harmony!!!!!!!!!

Harmony Leadership Academy is pleased to announce that our 2022 Field Day will take place on Friday, May 13th! For their safety and comfort, please make sure that your child comes to school in appropriate clothing and shoes.